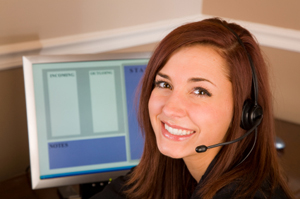 We look for many qualities in the individuals we hire – the ability to communicate effectively, a high level of organization, strong interpersonal skills, and so on.
Regardless of an applicant's qualifications, we always look for one attribute in particular – the desire to provide high-quality products with excellent customer service. We can train people how to work with clients or run pieces of equipment, but to have passion for customer service and pride for your work takes a unique individual.
If these are qualities you possess, we're sure you'll find a rewarding career with us. We supply our team with the latest technology, afford them the best training available, and provide every opportunity for growth within our company.
Current Openings
Thank you for your interest in a career with us. Please review the current openings below. If there are no positions listed, we have no openings at this time, but we always accept resumes. To submit a resume, please do so through the Customer Service Center, by selecting the Send A File option.
Also, alert us to the fact that this is a resume in the "Additional Details" section.
Applicants must be US citizens or US green card holders.
Pre-press Production Artist needed:
Immedia Print is seeking an efficient and organized Production Artist to join the company. This is an exciting opportunity for a designer that can quickly layout artwork files in a fast-paced production environment. This person must be able to manage multiple projects and meet deadlines. Experience in the Adobe Creative Suite is a must, as well as creating electronic layouts, reviewing, proofing, editing and resizing customer files, MOST OF WHICH WILL BE PRINTED. Experience in preparing files FOR PRINT JOBS is very important for this position.
The main objectives will be:
Effectively communicate with sales department or clients to trouble shoot and complete multiple daily assignments.
Consistently meet strict turnaround times on all assignments.
Create custom designs when needed.
Effectively layout, create and edit customer files to meet quality printing standards.
Communicate with clients effectively, making them feel glad they entrusted their jobs to us.
Role requirements:
Prefer Associates Degree or BA in Graphic Art and/or Design 
3+ years of industry experience in a design and/or printing environment.
Knowledge and experience with Adobe Creative Suite CC (InDesign, Illustrator, Photoshop)
Digital print production knowledge extremely helpful.
Self-motivated and a team player.
An appreciation of creative standards.
Familiarity with typography and best practices for kerning, leading, tracking and font management.
Familiarity with PRINT production!
Communicating with customers about design options or printing issues-excellent communication skills are a must-have!
Editing Skills using all or most of the below named programs:
Adobe CC (Illustrator, InDesign, Photoshop, Acrobat/Quite Imposing plug-in, Pitstop a plus)
Microsoft Office (Word/Excel)
Website Editing a PLUS!
Job duties may include, but are not limited to:
Review client files when received for size, bleed color, image quality, etc.
Suggest improvements and modify formats to increase the quality of production and ensure that standards are met.
Sending proofs to clients for approval.
Other technical duties may include scaling, cropping, retouching, repositioning and pre-flighting, or eliminating defective and excessive imaging.
The production artist will also be responsible for archiving and updating graphic files.
Design projects from start to finish for various clients.
Set up Variable data files (training provided for this).
Set up files for proofing/printing (adding crops and/or imposing as required.
Keep track of time spent on each job.
Run proofs of jobs using the color and Black/White digital printers and be comfortable running entire jobs on printers if needed (training provided for this).
Keep all files organized within filing system for easy retrieval of old files.
Meet production deadlines.
Help in the finishing department when needed (training provided for this).
Hours and Compensation: Part-time, with some schedule flexibility, from 25-35 hours, averaging about 30 hours/week, pay is $16 per hour. Short-term and Long-term disability insurance, 401(k) with company match, but no health insurance or vacation pay at this time.