We Print Patterns!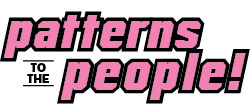 And we can do a lot more, too. Patterns to the People! is a division of Immedia Print, a commercial printing company that has been in business since 1988. We've been helping the Creative Sewing Market since 2005. Our job is to put your patterns into the hands of your customers, while you continue creating great designs. We will print your patterns with smaller minimum order quantities, and with great customer service. We print sizes from 5.5" x 8.5" up to 19" x 25"  and fold them, too.
We can print, fold, assemble with covers into bags, and ship your patterns for you as well.
Need help marketing your designs to stores or other buyers? We print and mail post cards and brochures, manage email campaigns, and can drive customers to your web storefront.
Call us to discuss your project, or email us, if you prefer. We are here to help you!