Mike Franklin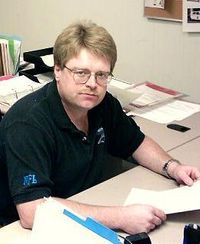 Production Manager
Mike Franklin has the most difficult job at our company.As our Production Manager, he is responsible for making and meeting all of the commitments that we make to our clients.
If a job turnaround is requested that exceeds our standard times, Mike is the one who is summoned to figure out how to get it done, if it can be done. Mike supervises all of our production people and the CSRs, too. Mike's background prior to printing was varied, from route salesman, to asphalt paving, to construction, to brake remanufacturing. He was a press operator with a large printer here in Winston-Salem before he came to work with us in 1993. His first job with us was also as a pressman, but soon it was evident that he could also manage people and teach them. Once he became our Production Manager, we were able to start growing.
He has two sons, James and Thomas. For recreation, he likes to go fishing and watch sporting events. In spite of the Carolina Panthers shirt shown above, Mike is probably the only Cleveland Browns fan in our state. This illness is due to having lived near the city in his youth.