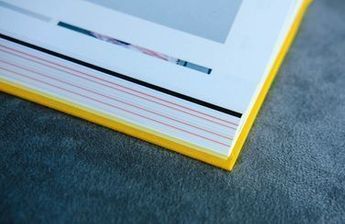 Bindery & Finishing
The Binding Solutions Your Document Needs.
From creating the perfect design and layout to custom printing the final piece, most promotional projects go through several steps before we consider them fully complete.  One of the most important steps is the final one - the professional finishing and bindery. 
We offer a wide variety of solutions for finishing and bindery services so you can rest assured that your project will be well taken care of from the beginning to end.  From cutting to collating, scoring to kitting, we'll finish your project with the most appropriate methods and to the highest standards.  Once the design and printing of your project is completed, we'll work with you to determine which finishing and bindery services your piece will need.
Coil Binding - great way to pull together the pages of a report or workbook, durable enough for mailing and comes in a wide variety of colors and sizes for a cost-effective way to add a professional touch
Comb Binding - perfect for workbooks or other documents needing to lay flat when open, a very cost-effective binding 
Perfect Binding - a simple and affordable way of binding reports, manuals, or brochures, and also used for 

binding paperback books

Saddle Stitching - an excellent binding solution for smaller booklets with a small number of pages, stapled together along the gutter of the folds, creating a bind that is both sturdy and highly cost-effective
Tape Binding - a strong and cost-effective solution for low-volume binding, with no hole-punching required, offers a clean, professional appearance that allows the document to lay flat when open, binding tape comes in a wide range colors
Velo Binding - this binding does not allow a document to lay flat when open, a strong binding choice for thicker, large print documents, book binding for durability and permanence
Wire Binding - a double loop style of wire binding, highly effective and affordable binding option for a wide range of document types. 2:1 pitch for larger sized documents, 3:1 pitch for smaller sized documents, or even Spiral-O wire  
Get A Quote!